Product Description
1.Incoloy 825/Alloy 825/2.4858 Alloy Round Bar
2. Material Grade:
Inconel600/601/625/718/X-750/713C,
Incoloy800H/800/901/925/926/A286
Hastelloy B/B-2/C-4/C-22/C-276,
Monel400/K500,Nickel200/201
N02200/N02201/N04400/N05500/N06600/N06601/
N06625/N06690/N07718/N07750/N08800/N08810/
N08825/N09925/N10001/N10665/N06455/N06022/
N10276/N06200/N08020/S66286/K93600/N08367/N06059/N08904.
MP35N.etc
3.Standard: ASTM BS JIS NF DIN GB
4.Size:
for the hot rolled bar, 8mm-100mm
For the forged bar, 70mm-400mm
5.Length: 500--6000mm,or other length as the customers' requirements.
6.Process: hot rolled, forged, cold drawn
7.Surface: black surface, polished surface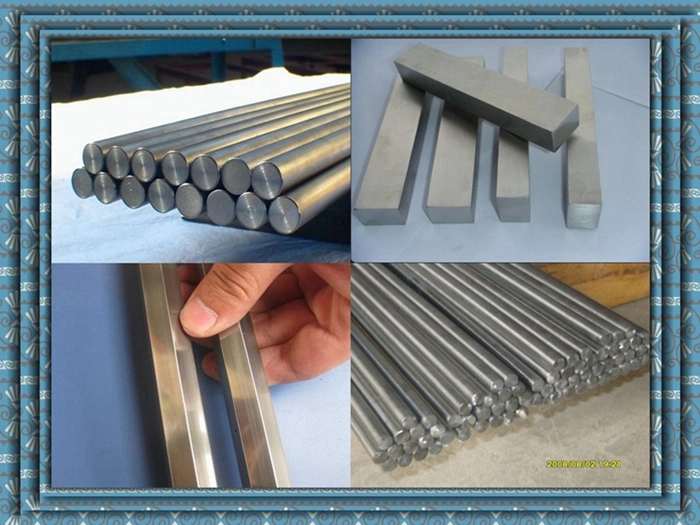 Product Range
We have
1. Inconel series: Inconel600, Inconel 601, Inconel 625, Inconel690,Inconel718, InconelX-750, Inconel713C,Inconel738LC,N0660,N06601,N06625,N06690,N07718,N07750,2.4816,2.4851,2.4856,2.4642,2.4668,etc,
2.Incoloy series: Incoloy800H, Incoloy800, Incoloy800HT,Incoloy825,Incoloy901, Incoloy925, Incoloy926,A286,N08800,N08810,N08811,N08825,N09925,N08926,1.4980,1.4876,2.4858,1.4529,etc
3.Hastelloy series: HastelloyB, Hastelloy B-2, Hastelloy C-4, Hastelloy C-22, Hastelloy C-276, HastelloyC2000,HastelloyX,N10001,N10665,N06455,N06022,N10276,N06200,N06002,2.4617,2.4610,2.4602,2.4819,2.4675,2.4665,etc
4.Monel series:Monel400, Monel K500, N04400,N05500,2.4360,2.4375,etc
5.Pure Nickel series: Nickel200, Nickel 201, Nickel270,N02200,N02201,N02270,2.4060,2.4061,etc
6.Nitronicseries:Nitronic50,Nitronic60,Nitronic80,Nitronic105,Nitronic115,S20910,S21800,XM-19,Alloy218,etc
7.Alloyseries:Alloy20,Alloy20CB3,Alloy28,Alloy31,Alloy59,N08020,N08028,N08031,N06059,2.4605,2.4660,1.4562,etc
8. GH series:GH4169, GH4145, GH4105, GH4049, GH4033, GH4043,4180, GH3030, GH3536, GH3128, GH2132, GH1131,etc
9.MP35N
Applications for industrial :
1.Nuclear power,
2.Environmental protection,
3.Aerospace,
4.Chemical enterprises,
5.
Oil drilling,
6.Desulfurization and denitrification,
7.
Nuclear submarine,
8.others
Packing
Standard export packing, or as the customers' requirement.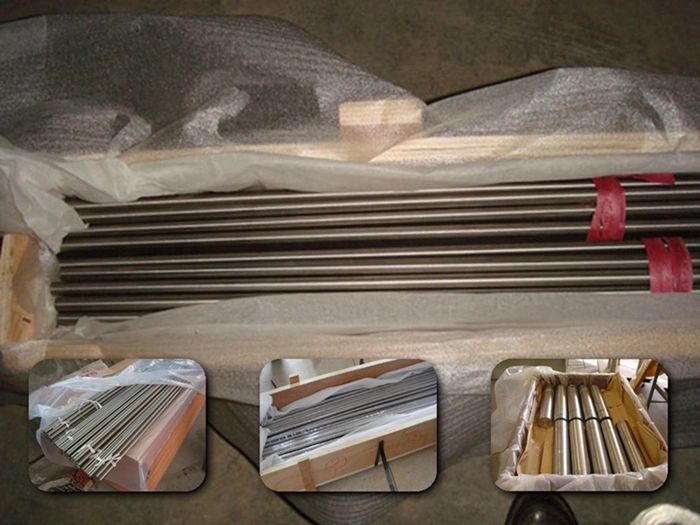 Why choose us?
Our company established in 2004.More than 10 years of development,we become the leader in north China market in metal material products.We have more than 1000 tons of perennial stock.
What is our customer base?
Our customers are located in more than 80 countries and regions around the world,especially in the Middle East,Southeast Asia,South America,North America,Australia,Eastern Europe,Nordic has long-term stability of customers.
What is our advantage?
We have high quality products and professional services. Our products after SGS,BV,ISO certification. Our salesman has more than five years of experience.
What is the delivery time?
If we have stock, usually the delivery time is about 10-20 working days. If your products need to be produced, the delivery time is about 30 working days or 45 working days, or according to the factory arrangement.
What is the density of nickel?
The density of nickel is 8.902.
What is the melting point of nickel?
The melting point of nickel is 1453 degrees
material grade

UNS

GB/T 14992

GB/T 15007

DIN

JIS

Nickel200/Ni200

N02200

2.4060

Nickel201/Ni201

N02201

2.4061

Nickel270/Ni270

N02270

Monel400

N04400

2.4360

Monelk500

N05500

2.4375

Inconel600/Alloy600

N06600

NS3102

NS312

2.4816

NCF600

Inconel601/Alloy601

N06601

NS3103

NS313

2.4851

Inconel625/Alloy625

N06625

NS3306

NS336

2.4856

NCF625

Inconel690/Alloy690

N06690

NS3105

NS315

2.4642

Inconel718/Alloy718

N07718

GH4169

GH169

2.4668

Inconel725/Alloy725

N07725

Inconel738LC/Alloy738

K438

K38

Inconel X-750/AlloyX-750

N07750

GH4145

GH145

2.4669

NCF750B

Incoloy A286/Alloy286

S66286

GH2132

GH132

1.4980

SUH660

Incoloy800/Alloy800

N08800

NS1101

NS111

1.4876

NCF800

Incoloy800H

N08810

NS1102

NS112

1.4876

Incoloy800HT

N08811

1.4876

Incoloy825/Alloy825

N08825

NS1402

NS142

2.4858

NCF825

Incoloy925/Alloy925

N09925

Incoloy926/Alloy926

N08926

1.4529

Hastelloy B

N10001

NS3201

NS321

Hastelloy B-2

N10665

NS3202

NS322

2.4617

Hastelloy C-4

N06455

NS3305

NS335

2.4610

Hastelloy C-22

N06022

NS3308

-

2.4602

Hastelloy C-276

N10276

NS3304

NS334

2.4819

Hastelloy C-2000

N06200

NS3405

2.4675

Hastelloy X/Alloy X

N06002

GH3536

GH536

2.4665

Alloy 20/Alloy 20cb/Carpenter cb3

N08020

NS1403

NS143

2.4660

GH4049

GH49

2.4636

GH4033

GH33

GH4043

GH43

GH3030

GH30

2.4983

GH1131

GH131

F15

4J29

1.3912

EMAS-1001

4J33

Invar36

K93600

4J36

1.3912

3J21

3J58

904L

N08904

1.4539

AL6XN

N08367

Alloy59

N06059

2.4605

Nictronic50

S20910

Nictronic60