Hastelloy c276 Nickle-Based Alloy Steel Plate Excellent corrosion resistance
1)Description:
Hastelloy c276 Nickle-Based Alloy Steel Plate Excellent corrosion resistance
Grand:
N02200,N02201 ,Hastelloy c276,Hastelloy c22,Hastelloy b2,Hastelloy b3,Hastelloy g30,Inconel600,Inconel601,Inconel617,Inconel625,Inconel690,Inconelx750,Inconel718,Incoloy800,Incoloy800H,Incoloy825,Incoloy925,Incoloy926,Monel400,MonelK500,Alloy20,Alloy28,Alloy31,Alloy59 and so on.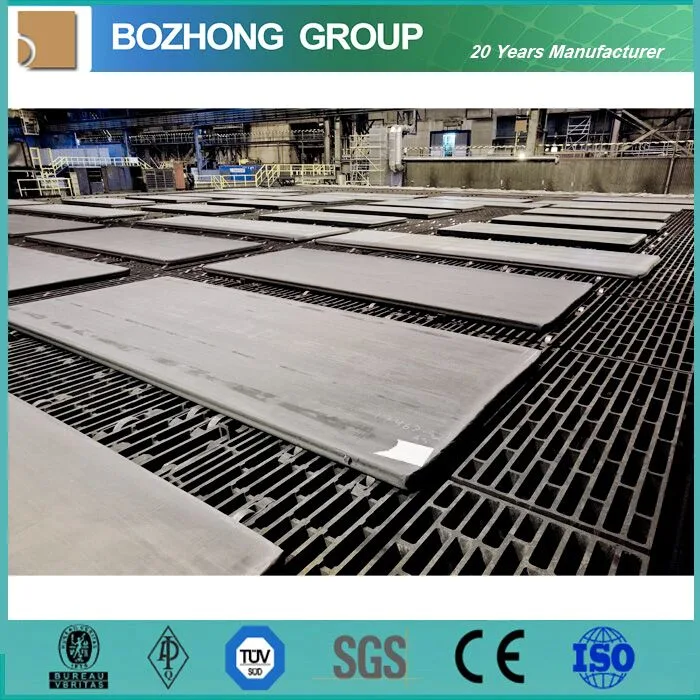 Chemical Composition
| | | | | | | | | | | | | |
| --- | --- | --- | --- | --- | --- | --- | --- | --- | --- | --- | --- | --- |
| Alloy | C | Cr | Ni | Fe | Mn | Si | Mo | Co | Al | Ti | P | S |
| Hastelloy 617 | 0.05 | 20.0-23.0 | Bal | ≤2 | ≤0.7 | ≤0.7 | 8.0-10.0 | 10.0-13.0 | 0.6-1.5 | 0.2-0.6 | ≤0.012 | ≤0.018 |


Physical properties
Characteristic

Tensile strength
Rm N/mm²
Yield Strength (0.2% offset)
Rp0.2N/mm²
Elongation
A5 %

Density

Melting point
(ºC)

Elastic Modulus

Thermal conductivity

680

300

30

8.1g/cm³

1320-1370

212N/MM²

13.4

2)Features:
Nickel-based alloys refer to a class of alloys with high strength and certain resistance to oxidation and corrosion at high temperature of 650 ~ 1000 ºC. According to the main performance, it is further subdivided into nickel-based heat-resistant alloys, nickel-based corrosion-resistant alloys, nickel-based wear-resistant alloys, nickel-based precision alloys and nickel-based shape memory alloys. According to different substrates, superalloys are divided into: iron-based superalloys, nickel-based superalloys and cobalt-based superalloys. Nickel-based superalloy is referred to as nickel-based
It has the character of good weldability ,excellent corrosion resistance, high temperature and oxidation resistance and excellent comprehensive performance.It can be widely used in offshore petrochemical ,environmental protection,energy and other fields which in high corrosion and high temperature environment.
3)Production Process
Smelting: In order to obtain more pure molten steel, reduce the content of gas and harmful elements; at the same time, due to the existence of easily oxidizable elements such as Al, Ti in some alloys, it is difficult to control by non-vacuum smelting; it is to obtain better thermoplasticity , Nickel-based heat-resistant alloys are usually smelted by vacuum induction furnace, and even produced by vacuum induction smelting plus vacuum consumable furnace or electric slag furnace remelting.
Deformation: Forging and rolling processes are adopted. For alloys with poor thermoplasticity, even after extruding the billet, rolling or direct extrusion process with soft steel (or stainless steel) cladding. The purpose of deformation is to break the casting structure and optimize the microstructure.
Casting: usually use vacuum induction furnace to melt the master alloy to ensure the composition and control the content of gas and impurities, and use vacuum remelting-precision casting method to make parts.
Heat treatment: Deformed alloys and some casting alloys need to be heat treated, including solution treatment, intermediate treatment and aging treatment. Taking Udmet 500 alloy as an example, its heat treatment system is divided into four stages: solution treatment, 1175 ºC, 2 hours Air cooling; intermediate treatment, 1080 ºC, 4 hours, air cooling; primary aging treatment, 843 ºC, 24 hours, air cooling; secondary aging treatment, 760 ºC, 16 hours, air cooling. In order to obtain the required organization state and good comprehensive performance.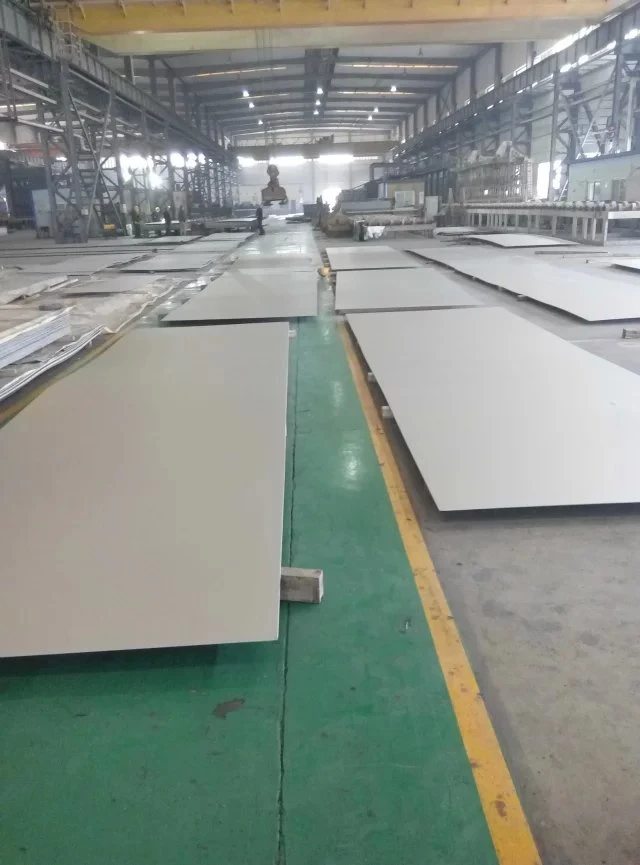 4)alloy element
The main alloying elements are chromium, tungsten, molybdenum, cobalt, aluminum, titanium, boron, zirconium, etc. Among them, Cr, Ai, etc. mainly play an antioxidant role, and other elements have solid solution strengthening, precipitation strengthening and grain boundary strengthening.
It has a high strength and a certain resistance to oxidation and corrosion at 650 ~ 1000 ºC. Due to its high enough high temperature strength and resistance to oxidation and corrosion, it is often used in the manufacture of aeroengine blades and rocket engines, nuclear reactors, and energy conversion equipment. High temperature parts.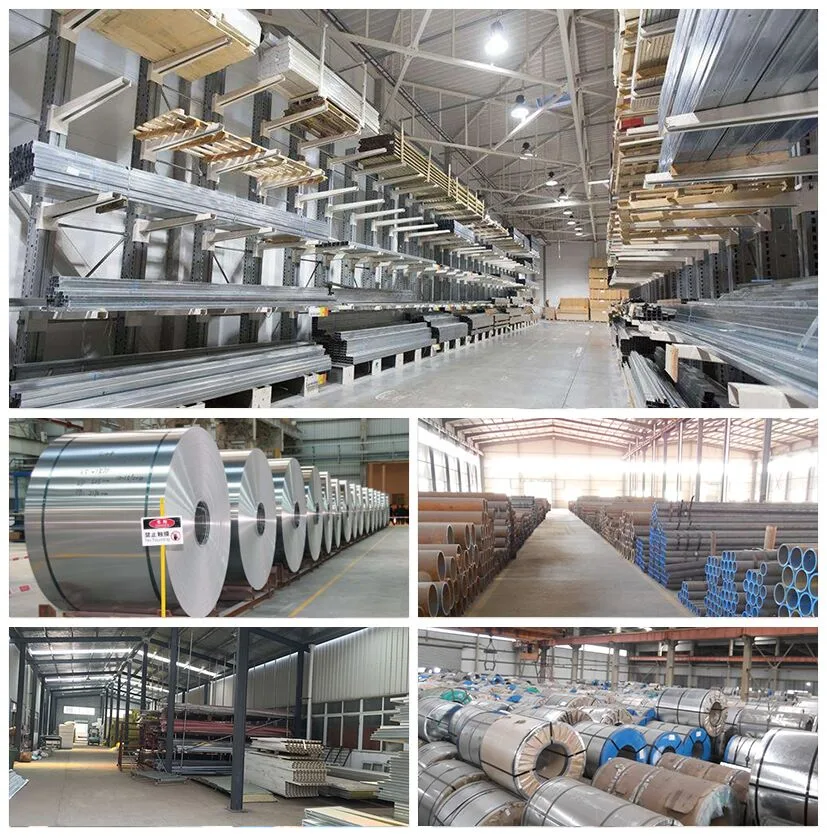 5)Application field
Nickel-based alloys are used in many fields, such as:
1. Ocean: marine structures in the marine environment, seawater desalination, seawater aquaculture, seawater heat exchange, etc.
2. Environmental protection field: flue gas desulfurization device for thermal power generation, wastewater treatment, etc.
3. Energy field: atomic power generation, comprehensive utilization of coal, sea tide power generation, etc.
4. Petrochemical industry: oil refining, chemical and chemical equipment, etc.
5. Food field: salt making, soy sauce brewing, etc. In the above many fields, ordinary stainless steel 304 is incapable. In these special fields, special stainless steel is indispensable and irreplaceable. In recent years, with the rapid economic development and the continuous improvement of the level of the industrial field, more and more projects require higher grade stainless steel. With the growth of demand for nickel-based alloys in various industries. In 2011, China's nickel-based alloy market reached 23.07 billion yuan, a year-on-year growth rate of 19.47%. Therefore, the industry development level is in a steady upward trend.


Our Company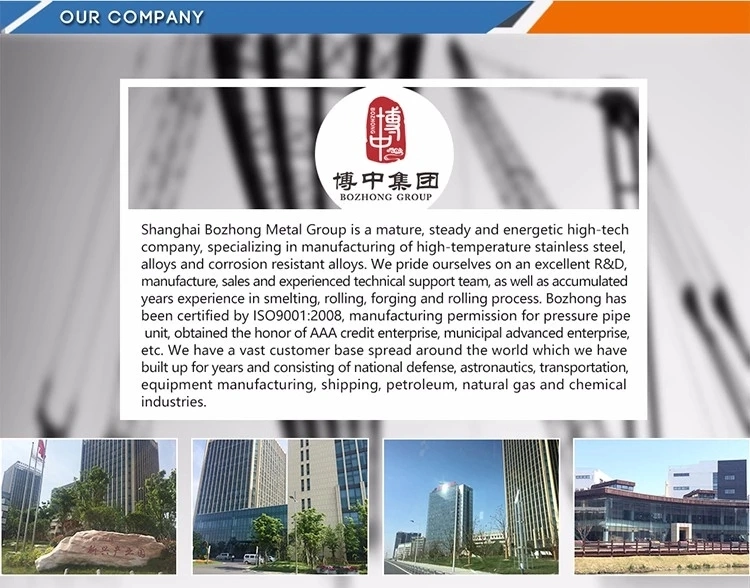 Our Team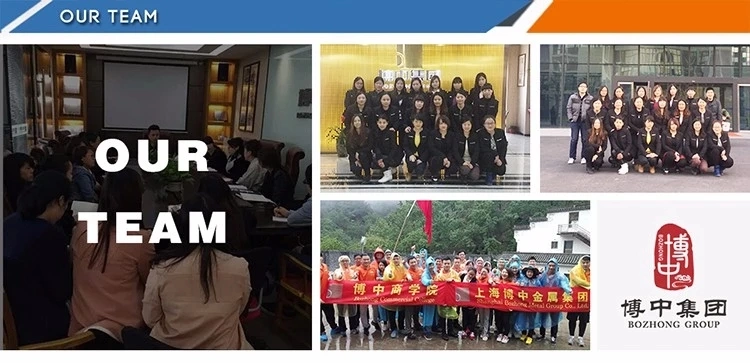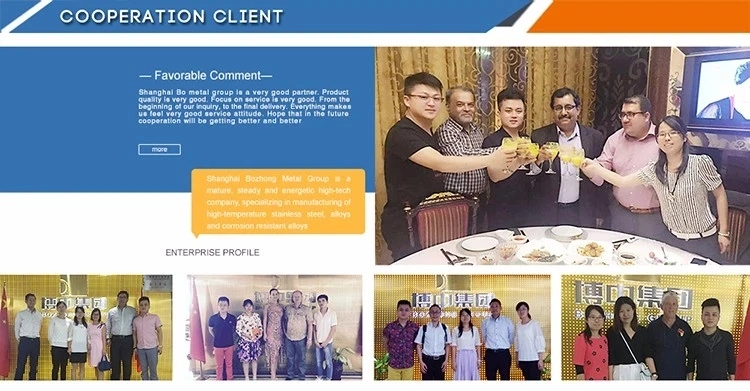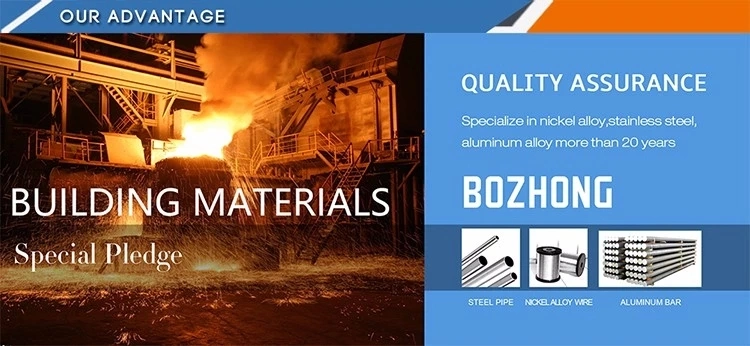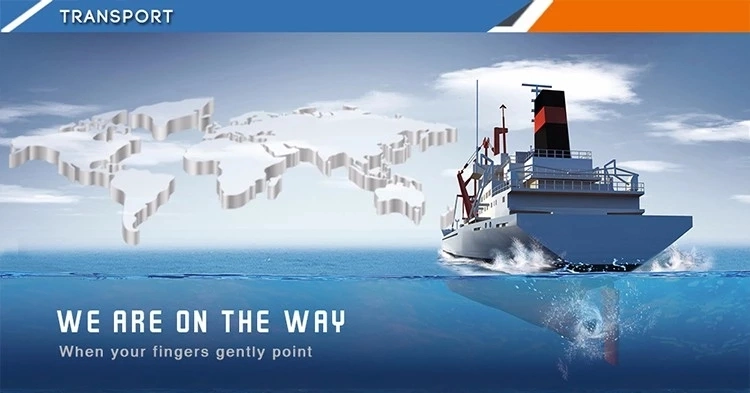 What we can offer?

We offer a wide range of steel products in a wide variety of dimensions and executions, acc.to the common international specifications or customerized.
Machining and heat treatment are available.
Also, we advise you in choosing the right materials.

Shape Available
Solid round bar
Flat bar
Square bar
Hexagon bar
Block
Plate
Sheet
Wire rod
Strip

Our Service For You
Pre-sale Service
1. Sample can be offered with sample charge and courier fee by buyer's side.
2. We have full stock,and can deliver within short time.Many styles for your choices.
3. OEM and ODM order are accepted, Any kind of logo printing or design are available.
4. Good Quality + Factory Price + Quick Response + Reliable Service, is what we are trying best to offer you
5. All of our products are produce by our professional workman and we have our high-work-effect foreign trade team, you can totally believe our service.
6. We have 8 year experience of design, manufacture and sell lingerie, we cherish every order from our honor.


After you choose
1. We will count cheapest shipping cost and make invoice to you at once.
2. Check quality again, then send out to you at 1-2 working day after your payment,
3. Email you the tracking no, and help to chase the parcels until it arrive you.

After-sale choose
1. We are very glad that customer give us some suggestion for price and products.
2. If any question,please contact with us freely by E-mail or Telephone.
contact:
Shanghai Bozhong Metal Group Co., Ltd.
ADD: Floor 5, Building 32, No.288 Xinzhuan Highway, Songjiang District, Shanghai, China
Contact: Alicia Liu
Website: https://shanghaibozhong.en.made-in-china.com