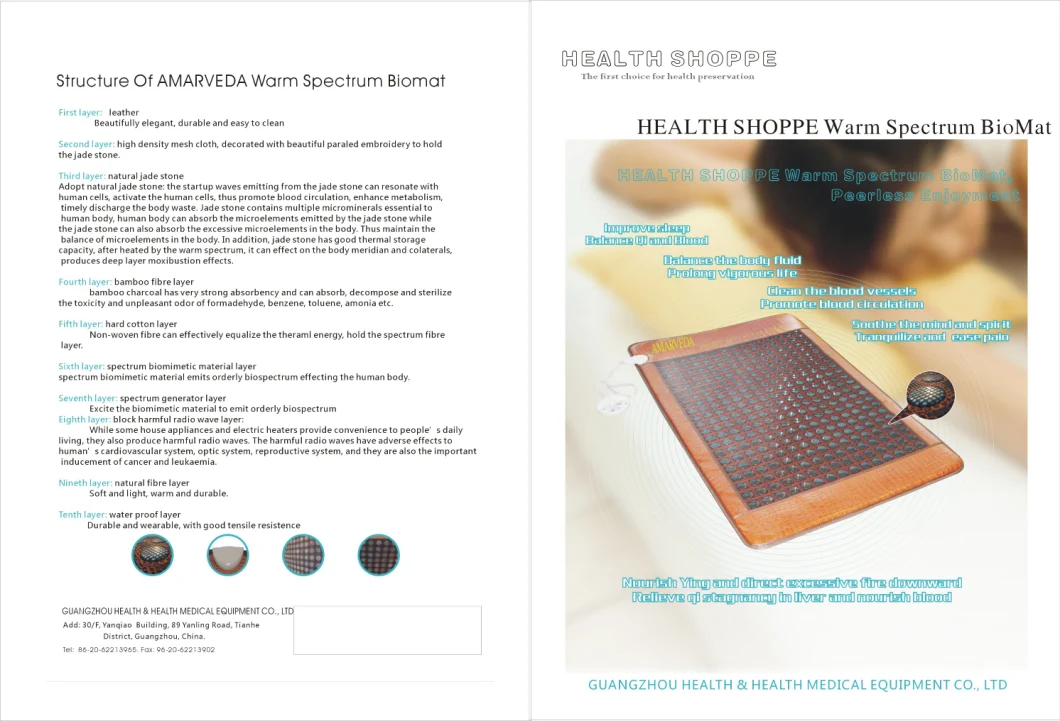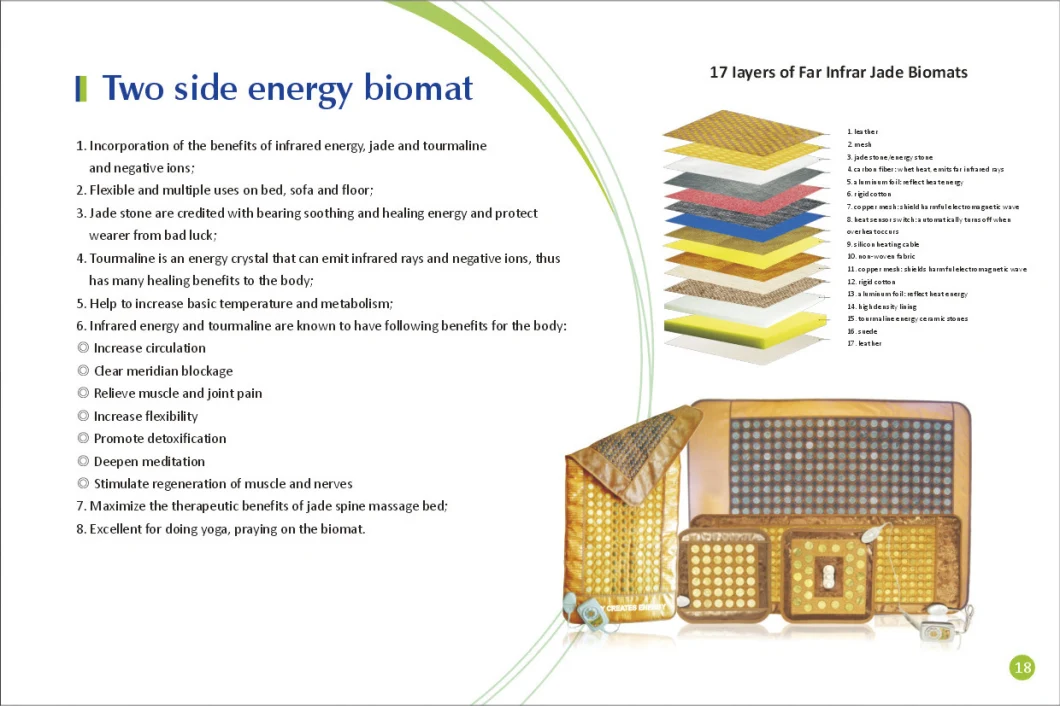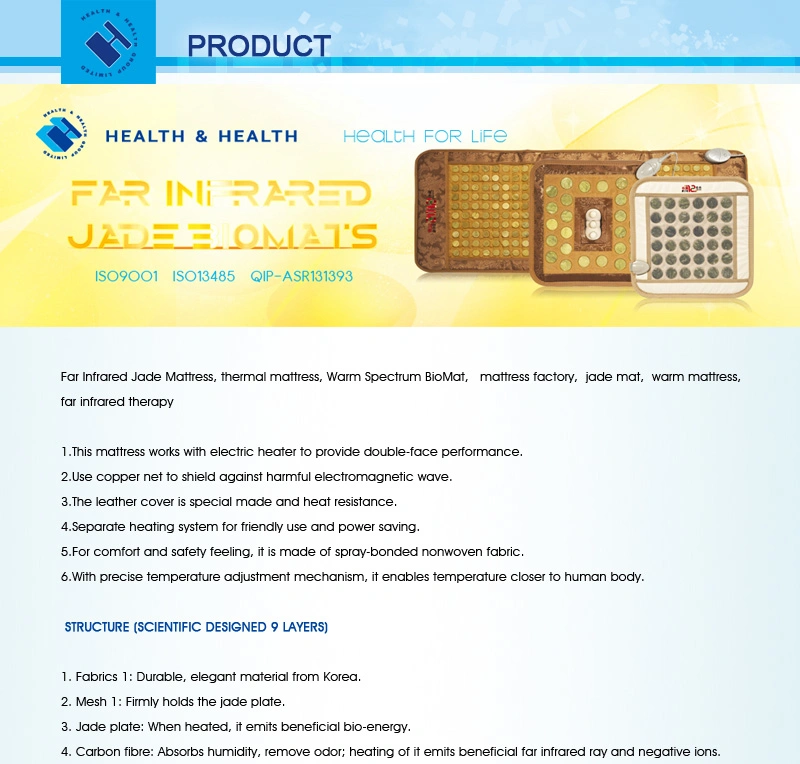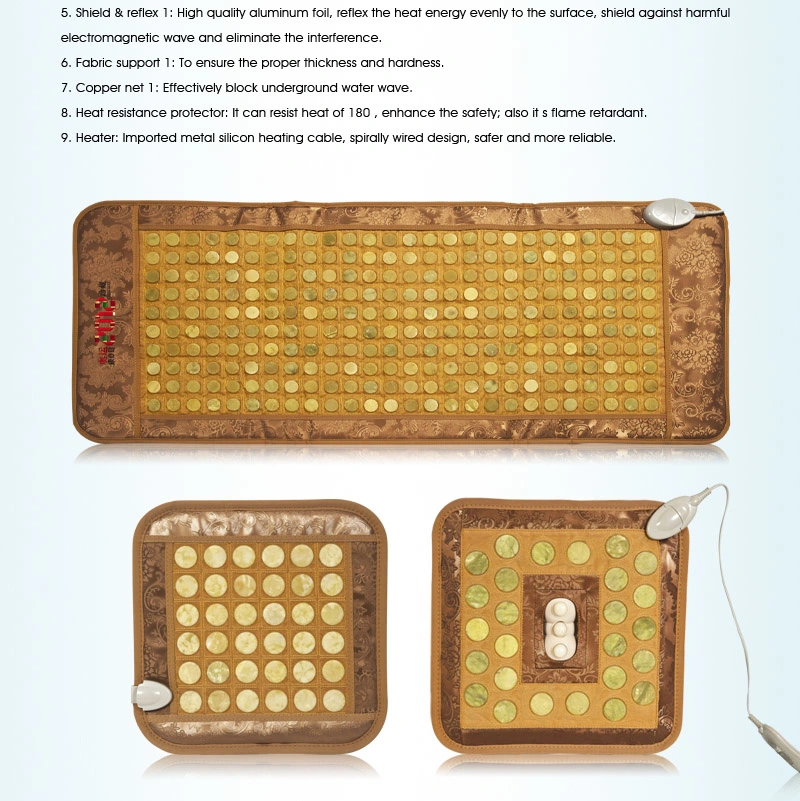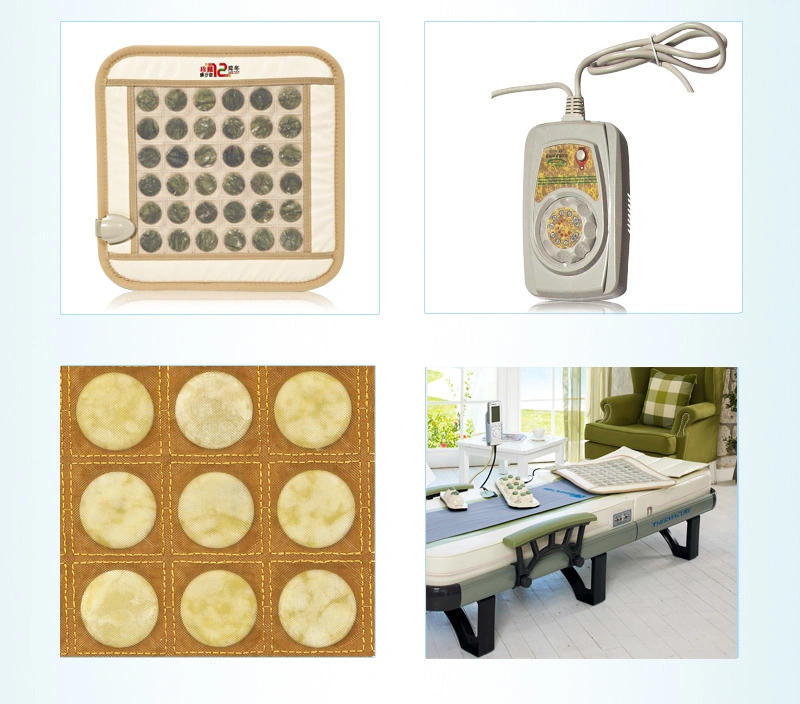 High blood pressure (hypertension), hign blood lipids, diabetes, stroke, gout, protrusion of
intervetebral disk, constipation, hemorrhoids, menstrul cramps, headache, loss of memory,
lumbar and back pain, osteoporosis, thickened rough skin, peri-menopausal syndrome,
tumor(benign) etc, applicable for long lying patients, post surgery, post giving birth (post
partum)recovering group and sub-health group.
1. Promote Blood Circulation. Warm Spectrum BioMat can facilitate dilation of blood
vessels, accelerate blood circulation, strengthen hemapoietic function(blood cell
generation), resulting in stronger tissue functioning and more vigorous lives.
2. Eliminate Tiredness and Enhance Sleep Quality. Warm Spectrum BioMat modifies the
local magnetic-electro process, create electron transfer, regulate central nervous system
and automatic nerves, unblock the cerebral meridians and collaterals, stablize cerebral
pressure, normalize electroencephalogram(EEG)(brain waves), provide a very good role in
eliminating tiredness, stress and enhancing sleep quality.
3. Enhance Body Immunity. The bio-cycles in the Warm Spectrum BioMat can activate the
immunity of the human body, facilitate to body to remove various wastes, greatly fortify
the human body's resistance to disease.
4. Relieve Menstrual Cramps. The far infrared thermotherapy of Warm Spectrum BioMat
has sadative effect, can relax the pain sensitive neuron and significantly relieve the
menstrual cramps and accompanied sickness.
5. Relieve Various Senile Diseases. Warm Spectrum BioMat play a good role in prevention
and control of popular senile diseases such as hypertension, diabetes and heart disease.
Warm Spectrum BioMat unblock blood vessels, speed up blood circulation and metabolism,
strengthen blood supply, decrease blood pressure and blood sugar and workload of the
6. Eliminate the wind, cold and wet stagnancy in the body. The spectrum light
thermotherapy of Warm Spectrum BioMat can penetrate and remove the join wind and wet
stagnancy, rapidly relieve back and lumbar pain and join pains.
7. Boost up body vigor, retard the aging process. The time-varying magnetic field emitted
by Warm Spectrum BioMat can speed up blood supply, strengthen body vigor and retard
the aging process of the body tissues.
Model :
JKF-CD-A(JKF-CD-B)
Name :
Health Shoppe Warm Spectrum BioMat
Voltage/Frequency :
220V/50Hz or 110V/60Hz
Heating cable
non magnetic wave heat transmitting cable, AC220V/11
Dimensions :
150*190 (120*190)cm