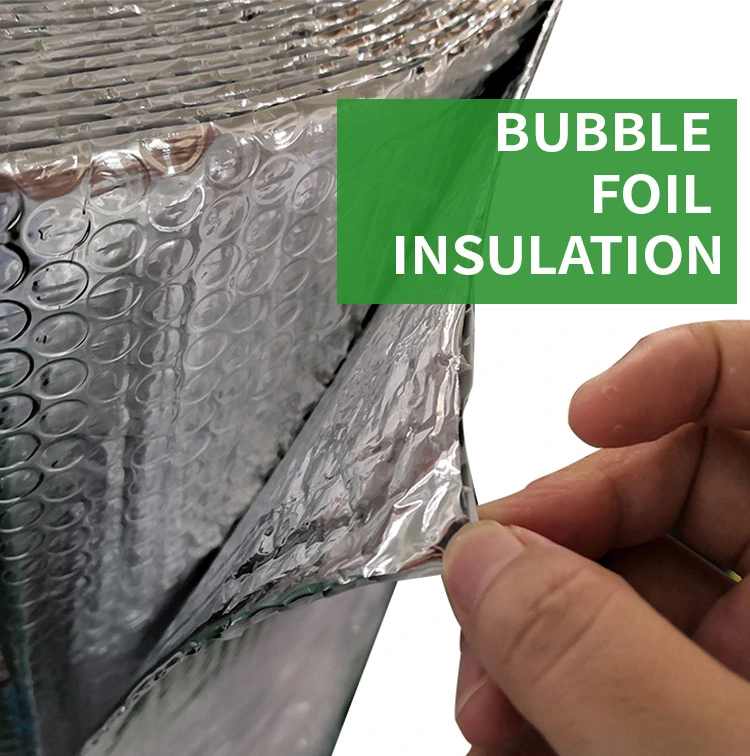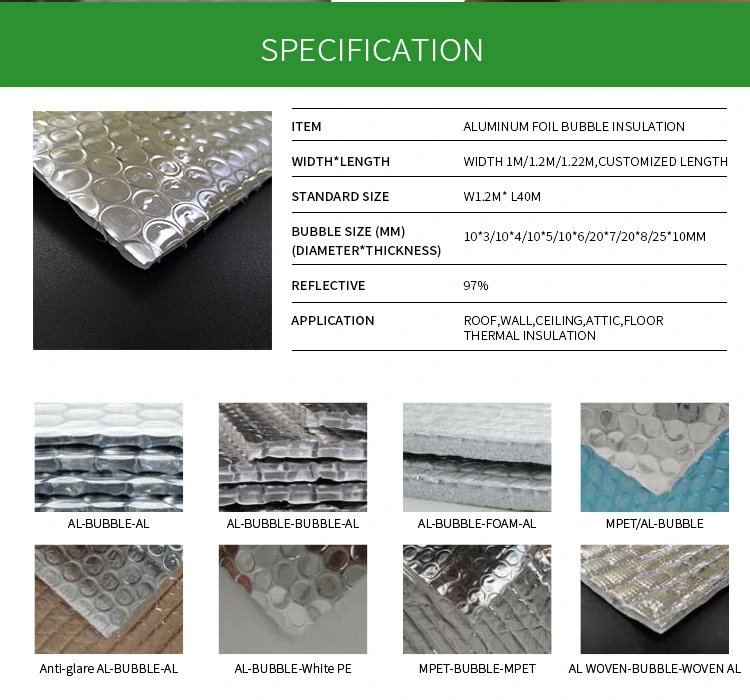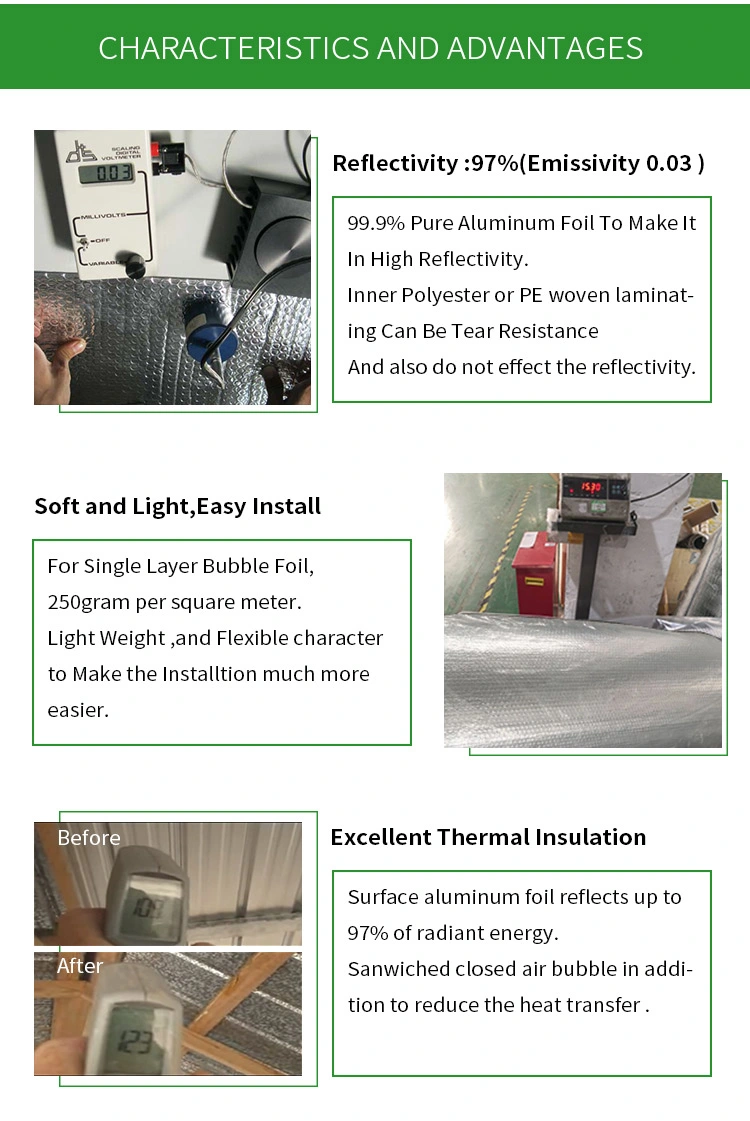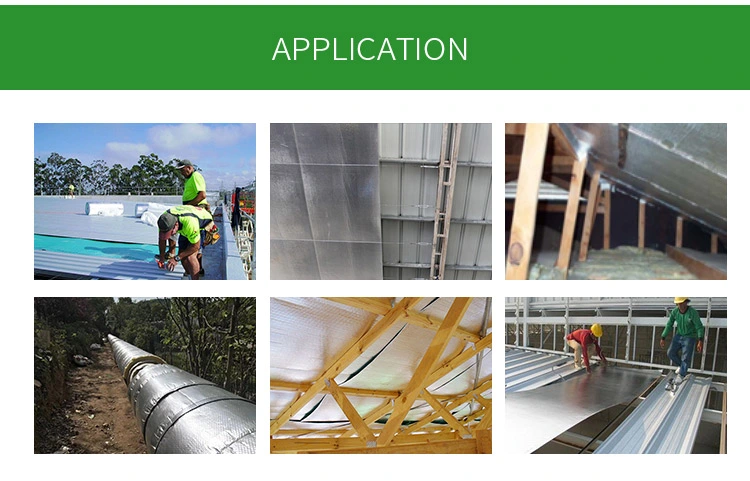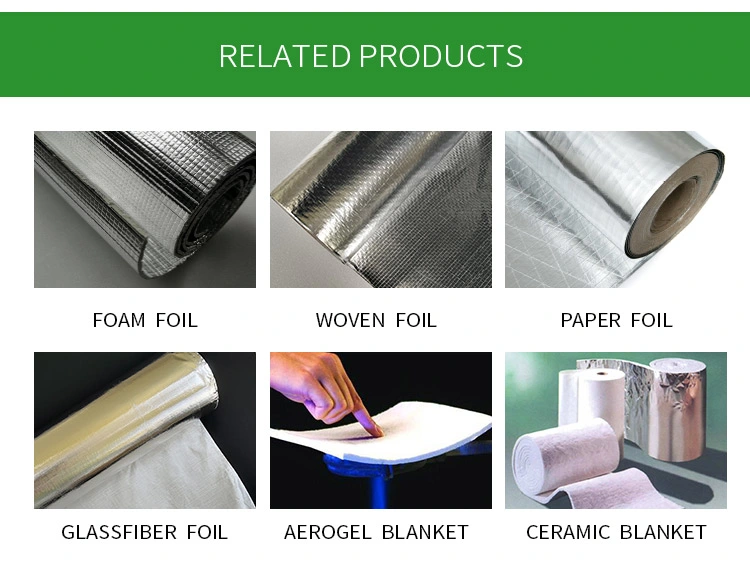 aluminum foil bubble heat insulation
This product consists of aluminum foil & plastic bubble by laminating. The material provides excellent insulation: Reflects up to 97% of radiant energy in addition to resisting other types of heat transfer from conduction, convection & radiation. The 2 side aluminum foil forms an effective barrier against moisture, air currents & vapors.
Structure:
1. Aluminum foil+bubble+Aluminum foil;
2. Aluminum foil+bubble+bubble+Aluminum foil;
3. Aluminum foil+bubble+white PE anti-flaming sheet;
4. Aluminum foil+white PE anti-flaming bubble+weaving facbric+Aluminum foil;
5. Aluminum foil+white PE anti-flaming bubble+Aluminum foil with blue color.
The size, weight & structure can be met the customers' demand.
Feature:
1. Light, clean, thin, good flexibility and cushioning;
2. Waterproof, moistureproof, anti-static, tearing strength, anti-pull, leak resistance;
3. Invariable if it is attacked repeatedly;
4. Easily to install, high efficiency;
5. Protective, versatile and enviromentally friendly.
Usage:
It is widely used in industry, construction, manufacture & consumer applications, commercial building, home insulation, roof insulation, underlay & are also widely used in such daily life areas as household appliances, automotive industry, aviation, shiping, sports apparatus, toys, and house fittin-up so on.
| | | |
| --- | --- | --- |
| PROPERTIES | TEST DATA | UNIT |
| Thickness | 3.5 | mm |
| Weight | 256 | g/m2 |
| Emissivity | 0.03-0.04 | COEF |
| Thermal conductivity | 0.034 | w/m0 |
| Apparent Density | 85 | kg/m³ |
| Reflectivity | 95-96 | % |
| Water Vapour Transmission | 0.013 | g/m2kpa |
| Corrosion | doesn't generate | |
| Tensile Strength(MD) | 16.98 | Mpa |
| Tensile Strength(TD) | 16.5 | Mpa |